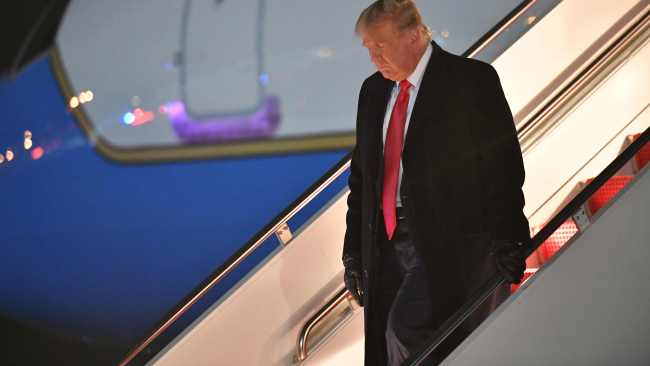 Welcome to our live coverage of the fallout from the US election.
President Donald Trump spent the morning after his defeat to Joe Biden watching TV and fuming from the White House.
Mr Trump tweeted quotes from guests on Fox News' morning programs to bolster his baseless claims that the election result was fraudulent.
"We believe these people are thieves. The big city machines are corrupt. This was a stolen election. Best pollster in Britain wrote this morning that this clearly was a stolen election, that it's impossible to imagine that Biden outran Obama in some of these states," former Republican politician Newt Gingrich said, in one statement repeated approvingly by the President.
"Where it mattered, they stole what they had to steal."
He also quoted lawyer Jonathan Turley, who is a professor at George Washington University.
"We should look at the votes. We're just beginning the tabulation stage. We should look at these allegations. We're seeing a number of affidavits that there has been voter fraud. We have a history in this country of election problems," Mr Turley said.
"In Pennsylvania you had an order by a Supreme Court Justice to compel them to separate ballots that were received after the legislative deadline. It required the intervention of Justice Alito. That's a large group of ballots."
The Trump campaign has not produced evidence to support its claims of widespread fraud in the election.
I'll address the Supreme Court order cited by Mr Turley directly. In Pennsylvania, mail-in ballots are counted as long as they arrive up to three days after the election. Mr Trump has been complaining repeatedly about that rule, falsely claiming such votes are "illegal", when they are in fact in full compliance with the law.
To be clear, these ballots were not cast after the election. They were sent on or before election day, and arrived afterwards.
The order from Justice Samuel Alito compelled officials to keep these late-arriving ballots "segregated" from the mail-in ballots that arrived by election day. Officials in Pennsylvania say they were already doing that anyway. So the order requires them to do something they were already doing.
According to Pennsylvania's Attorney-General, Josh Shapiro, there are only a few thousand of these late-arriving ballots – "not tens of thousands or hundreds of thousands". Mr Biden currently leads the state by 42,000 votes, and that lead is growing. So even if every single late-arriving ballot was thrown out, it would not change the result.
Anyway, we are sure to here more about this from the President and his legal team in the coming days.
Meanwhile, Mr Biden is in the process of setting up his transition team, which will prepare him to take over as president on January 20.
Read on for the latest news.
Originally published as 'Thieves': Trump seethes in White House